Everything you need to know when selecting a clay bead chandelier

19 September, 2022
Author: Kerri Wallace
---
Purchasing a chandelier is a decision that needs to be well considered and planned prior to pressing 'buy now'.
We receive countless questions in the lead up to purchase and have collated some below to help you with your big lighting decision.
We are always happy to answer more so just get in touch if you'd like to throw another one our way.
1. There are so many different styles of chandeliers! How do I determine the right aesthetic for my space?
Choosing the right chandelier for you is like any other fashion choice. You want it to look and fit properly, be visually appealing to you (the most important critic) and offer the functionality that's required in order for it to do what it was intended to do.
Style largely is in the eye of the beholder, so what looks right for you would often be what will make you happy.
There are a few basic principals that apply. These include:

If you are looking to achieve a minimalist look, avoid ornate designs that have crystals, curls and swags.
Different styles have differing shapes. Depending on the layout of the area you are wanting to "dress" with
your chandelier, go for designs that will enhance the appropriate space
Make sure of things like headway clearance and the proportions of chain vs chandelier.
If you're styling your chandelier amongst other furniture pieces you have selected, we love a moodboard.
Use Canva or a similar app to put all your special pieces together and make sure they are meeting your design goals.
We love helping with this element so if you would like an extra sounding board, send it our way!
2. How do I determine the best size for my space?
The size of the void or room is critical in identifying the style and size of the chandelier. There are some basic guidelines that apply in most circumstances.
When filling a VOID, the criteria include:
Apply the "one third" principal in most cases. In essence, the principal is about ensuring that the chandelier you select is between 25% to 40%

in size relative to the space you wish to fill.

The 2 main considerations when it comes to the size selections are width and height.

The "one third" principal is about space to the left and right (width) and top and bottom (height) of the areas involved

Width

: If you wish to hang a chandelier in an entry void of say 3 meters x 3 meters in width,

you need to select a chandelier between 800mm and 1.2meters in diameter. You have 3 spaces to consider.

Space to the left, space to the right and the chandelier itself. This will provide you with a chandelier that won't overfill the area nor be lost in the space.

Height

: The "one third" principal still applies however there are differering factors that will

alter the overall split up of the spaces you will need to consider.

It's important that you provide adequate headroom for the chandelier from both a safety and aesthetic perspective.

If you intend walking beneath the chandelier, we suggest headroom of about 2.2 meters. As an example, in a tall void of say 5.8 meters, you would need to identify the remaining space that needs to be filled after the clearance has been accommodated which in this case would be 3.6 meters.

The chandelier you will need to select would be somewhere in the middle of this remaining space. In this example we would be specifying a fitting of about 1.8 meters in height with a similar amount of chain and ceiling crown.
In the above example, we have a split of space of about 38% (headroom) to 31% (chandelier) to 31% (chain and ceiling crown) = 100%
When selecting a chandelier for a PASSAGEWAY, the criteria include:
Identify the width, height and length of the passage. As an example, if your passage is 1.5 meters wide, 3 meters high and 8 meters long, you will need to apply the "one third" principal to the width. In this case. a chandelier with a diameter of anything between 400mm and 600mm would do the trick.

In terms of the height, remember the head clearance of about 2.2 meters do you have 800mm to play with in terms of the chandeliers height. also remember to allow for the chain and ceiling crown in the overall height.  
When selecting a chandelier for a DINING ROOM, LOUNGE ROOM, BEDROOM etc, different criteria apply and as such, please feel free to contact us with your specific requirements.
If the above information has left your brain feeling fried, just get in touch and send us your plans or imagery and we can determine the best size for your space.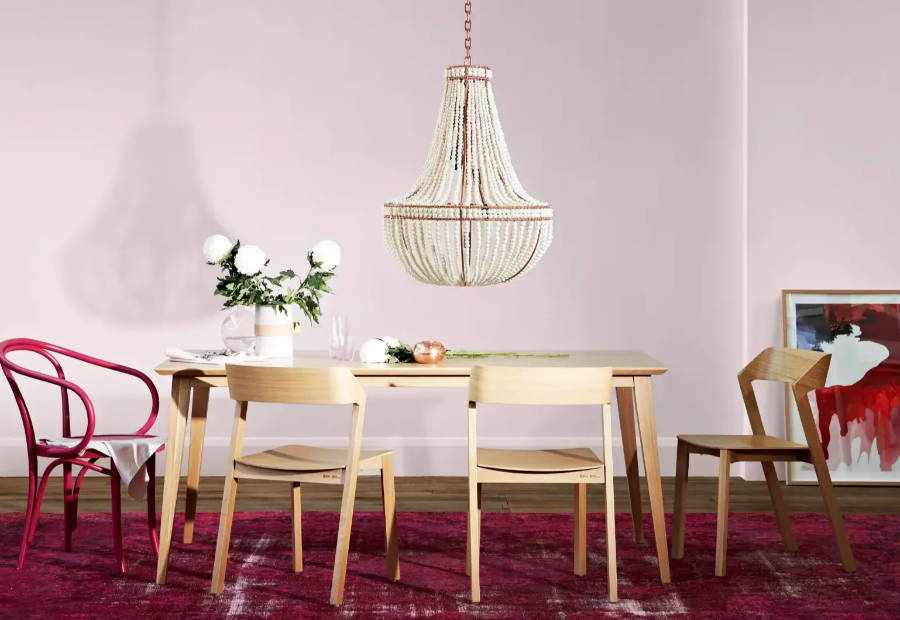 3.

How do I hang a chandelier?
The hanging of a chandelier is very important from an aesthetical perspective but more so from a safety perspective. All chandeliers require careful consideration when hanging and it's important to seek professional advice from your builder, electrician or handyperson.
There are a few basic guidelines to consider when planning this process as there are many different suspension mechanisms based on the sub-straight (ceiling / roof structure) in question.
Each chandelier, depending on the specifics in question, may require a different treatment. Besides things like the weight and size of a chandelier, positioning, accessibility, the ceiling structures and numerous other factors needs consideration.
Please feel free to seek assistance and don't hesitate to contact us with your specific requirements.
4. How do I clean my chandelier?
Chandeliers are made from varying materials and therefore need to be cleaned and cared for on an individual basis.
Clay bead chandeliers (our personal favourites!) are made using natural materials and as such we do not recommend using any chemicals for cleaning purposes.
The cleaning process is very simple once you appreciate that all of our chandeliers are made "imperfectly' and will display some of nature's characteristics. Bead shapes, sizes, imperfections and inconsistent colouring are part and parcel of the charm we are so proud of.
When installing your clay bead chandelier and BEFORE it is electrically connected, ensure the following:
Use a feather duster to remove particles of loose dust  
Use a clean damp cloth to wipe down to metal frame
Should you come across any marks on the WHITE beads, you can remove this by lightly sanding this with a fine sandpaper. In the case of COLOURED beads, use a damp cloth with a small amount of chemical-free dishwashing liquid.
For ongoing cleaning and maintenance, the chandelier needs to be regularly dusted as part of any house keeping cleaning program.
Got another question for us? Please get in touch via one of the below channels